Ship recycling is the dismantling of large abandoned ships carried out to recover metal scrap and other essential items. However, shipbreaking has always been targeted for its environmental impact and lack of sustainable recycling practices. The threat posed by shipbreaking practices cannot be taken lightly as they can be dangerous for marine life and humanity as well. To combat these environmental threats several International organizations have been established involved in promoting sustainable shipbreaking practices.
R.L. Kalthia has brought this blog to help you understand The Role of International Organizations in Promoting Sustainable Ship Breaking Practices and help gain a clear perspective on the topic. International Maritime Organization (IMO), Basel Convention, and International Labor Organization (ILO) are some of the prominent organizations involved in implementing sustainable practices helpful in minimizing the threats to the environment. An increased focus on spreading these regulations to all the major countries is the main objective of these international organizations.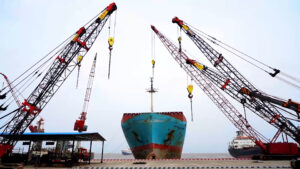 Key Challenges in Ship Recycling Industry 
Shipbreaking comprises dismantling end-of-life ships which are a good source of highly valued metal scrap and other useful items. However, to make ships durable and increase their life, many hazardous and radioactive materials are used that can harm the environment and be a threat to marine wildlife as well as the workers, working in the shipbreaking yard. Some other challenges faced by the shipbreaking industry are mentioned below: 
 Proper Disposal of hazardous substances such as asbestos, heavy metals, and other toxic materials.
 Human rights violations, such as exploitation of workers, poor working conditions, and child labor. 
Lack of comprehensive international regulations and enforcement mechanisms.
Economic pressure leads to the neglect of environmental and safety considerations.
Lack of adequate infrastructure, equipment, and facilities to handle ship recycling in a safe and environmentally friendly manner. 
Prominent International Organizations and Initiatives to Promote Sustainable Shipbreaking Practices 
There are several organizations and initiatives that are actively working to develop guidelines for sustainable shipbreaking practices. These organizations provide technical assistance, monitor the implementation of sustainable shipbreaking practices, and spread awareness about the same. Some well-known international organizations involved in laying the guidelines for the implementation of sustainable shipbreaking practices are:
International Maritime Organization (IMO): International Maritime Organization has been actively working to address environmental issues related to shipbreaking. The IMO is the working body behind the Hong Kong International Convention for the Safe and Environmentally Sound Recycling of Ships. The objective of the convention was to ensure no ship brought for recycling pose a threat to marine life, humans, or other animals. 
Basel Convention: The Basel Convention is a global treaty that works with the aim to regulate the transboundary movement and disposal of hazardous waste, including dismantled ships. The convention frames guidelines for proper shipbreaking practices and safe disposal of hazardous waste recovered. 
European Union (EU) Ship Recycling Regulation: As per the European Union, the EU-Flagged ships sent for dismantling shall meet specific environmental and safety standards. These regulations ensure that the ships are recycled while not compromising the environmental impact. 
International Labor Organization (ILO): The ILO is another organization that works under United Nations. The agency promotes safe working conditions and occupational health and safety standards in various industries, including shipbreaking. The guidelines set by the ILO ensure environmentally sound shipbreaking. 
Contribution of International Organizations in Fostering Environment-Friendly Ship Recycling
International organizations have highly contributed to reshaping shipbreaking practices. The regulations have a key role in addressing the environmental, economic, and social impacts of the shipbreaking industry. The implementation of these guidelines promotes responsible ship recycling and contributes to the conservation of the marine environment and also protects worker rights and safety. Some key ways through which international organizations contribute to promoting environmentally friendly ship recycling are given below:
International organizations raise awareness through training, workshops, and capacity-building programs to enhance knowledge and skills related to safe and sustainable ship recycling practices. They help stakeholders, including governments, ship owners, ship breakers, and local communities to learn more about the environmental and social impacts of shipbreaking.
International organizations foster collaboration with industry stakeholders, government, and civil societies to promote sustainable ship practices. These partnerships encourage a systematic approach to ensure that efforts to improve ship recycling stick with international standards and principles. 
Developing countries are leading the forefront of the shipbreaking industry. International organizations provide technical assistance and financial support to developing countries to improve their ship recycling infrastructure and implement sustainable shipbreaking practices. 
International organizations keep an eye on shipbreaking activities in the region where environmental and social concerns are prevalent. To achieve transparency and accountability International Organizations conduct site visits, assess compliance with regulations, and publish reports highlighting issues such as worker safety violations, environmental pollution, and human rights abuses. 
Conclusion 
International organizations have an indispensable role in bringing about safe and environmentally sound shipbreaking activities. It is only possible with the concerted efforts of international organizations, governments, industry stakeholders, and civil society that we can address the environmental and social challenges associated with shipbreaking activities. With the arduous efforts of international organizations,  governments, industry stakeholders, and civil society shall be encouraged more to stringently follow the rules and regulations laid by various international organizations.