The ship recycling journey of Alang shipbreaking yard commenced in the early 1980s, and from 1983 to 2023, it has embarked on a remarkable path. Situated along the Arabian Sea, its strategic geographical location has played a pivotal role in its transformation into Asia's largest shipbreaking yard. "The Evolution of Alang: The Largest Ship Recycling Yard in the World" offers insight into Alang's journey toward achieving global recognition as the premier shipbreaking facility.
Over a span of 40 years, Alang has witnessed substantial development in various aspects. The Alang facility encompasses 183 shipbreaking yards stretching over a distance of 14 kilometers or 8.7 miles. In this article, authored by R.L. Kalthia, you will delve into "The Evolution of Alang: The Largest Ship Recycling Yard in the World." From the 1980s to the 1990s, Alang emerged as a renowned hub for ship recycling. The shipbreaking yard gained global recognition for its cost-effectiveness and adherence to environmental regulations. Alang's efficiency and grandeur attract both domestic and international buyers seeking to capitalize on the availability of low-priced metal scrap and other materials recovered from shipbreaking.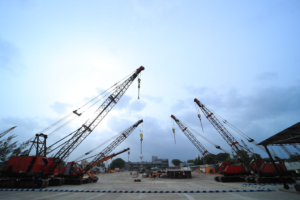 Promoting Environmental Awareness in Alang for a Sustainable Path Forward
Since the inception of the Alang shipbreaking yard in 1983, R.L. Kalthia has been vigorously working to make ship dismantling more environmentally friendly and sustainable as the shipbreaking industry expanded during the 2000s. With a heightened environmental consciousness, several international organizations launched conventions to establish guidelines for promoting sustainable ship recycling.
The Hong Kong International Convention for the Safe and Environmentally Sound Recycling of Ships, adopted in 2009, aimed to improve worker safety and introduce environmental regulations in the shipbreaking industry. Various measures were implemented to address environmental concerns, including the responsible handling of hazardous materials, contributing to the preservation of the coastal ecosystem. R.L. Kalthia has consistently been proactive in adopting these measures and promoting sustainable ship recycling.
Proactive Regulatory Changes in the Ship Recycling Industry
Ship recycling has long been a concern in developing countries due to the absence of regulations and laws. However, the scenario changed in 2003 when the Indian government introduced the Shipbreaking Code. The introduction of this code marked a significant step in regulating the shipbreaking industry in India.
The Shipbreaking Code aimed to address the following concerns in the shipbreaking industry and enforce environmental regulations:
Management of hazardous materials.
Implementation of training and skill development programs for workers.
Establishment of safe working conditions in shipbreaking yards.
Proper disposal of waste generated during ship recycling.
Regular inspections of shipbreaking facilities.
Overcoming Challenges and Promoting Accountability in Ship Recycling
The shipbreaking industry has always faced several challenges. The lack of accountability in ship recycling made it even more difficult for stakeholders to implement environmental regulations during ship dismantling. Despite these challenges, R.L. Kalthia remained committed to continually improving shipbreaking operations between 2000 and 2010. Some of the key challenges faced by shipbreaking yard owners in Alang are as follows:
Financial hardships encountered by small shipbreaking yards when upgrading infrastructure.
Difficulty in complying with constantly evolving regulations.
Limited access to technology.
Challenges related to waste disposal.
Inadequate infrastructure to meet environmental regulations.
Constructive feedback received from environmental organizations and international bodies played a vital role in inspiring R.L. Kalthia and other shipbreaking yard owners in Alang to strive for higher safety and environmental standards. Alang has commendably addressed all these challenges by prioritizing compliance with regulations and emphasizing improvements in labor working conditions.
Alang's Sustainable Shipbreaking Transformation
Despite the challenges and constraints, Alang has made significant progress in implementing environmental regulations in ship dismantling and has become a leader in green ship recycling worldwide. The dedicated efforts of shipbreaking yard owners like R.L. Kalthia to address environmental concerns have further enhanced Alang's reputation as a promoter of sustainable shipbreaking practices.
Forward-thinking shipyards are rapidly embracing modernization in the shipbreaking process while aligning their facilities with international standards. After 2010, shipbreaking in Alang has evolved significantly, thanks to the launch of the Hong Kong International Convention for Safe and Environmentally Sound Recycling of Ships in 2009. With meaningful discussions on advancing ship recycling practices in Alang, it is poised to become the epicenter of green ship recycling globally.
Conclusion
"The Evolution of Alang: The Largest Ship Recycling Yard in the World" offers crucial insights into the journey of the Alang shipbreaking yard. The Hong Kong International Convention for Safe and Environmentally Sound Recycling of Ships plays a pivotal role in addressing the environmental and safety concerns associated with shipbreaking practices worldwide. It establishes guidelines to enhance worker safety, promote documentation and inventory management, and introduce optimal waste disposal techniques. Alang, with the efforts of shipbreaking yard owners, has successfully maintained its status as the largest shipbreaking yard in the world.