The shipbreaking and recycling industry has been dominated by developing countries such as Bangladesh, Pakistan, and India. About 90% of the world's ship recycling activity takes place in Bangladesh, China, India, Pakistan, and Turkey. Being a labor-intensive industry, ship recycling has a gamut of economic benefits. From employment generation to boosting industrial development, ship recycling benefits a broad spectrum of people. 
In this blog, we have dug deeper into the economic benefits of Ship Recycling and have elaborated on implementing appropriate regulations to maximize the positive economic impact of ship recycling while minimizing potential negative consequences. With this blog, prepared by R.L.Kalthia Ship Breaking Private Limited, you will get insights into how shipbreaking is contributing to shaping the economies of developing countries.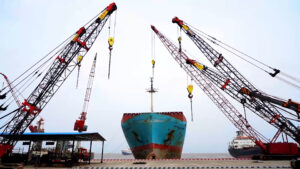 Economic Growth in  Developing Countries by Shipbreaking Industry 
As the shipbreaking industry shifted to developing countries, they have immensely contributed to their economies. In India's Gujarat state, the Alang area alone directly employs around 60,000 people when all its yards are occupied, in addition to providing many indirect jobs. Bangladesh is currently leading the forefront of the shipbreaking industry. The scrapping of ships provides the country's main source of steel and in doing so saves a significant amount of money in foreign exchange by reducing the need to import steel materials. 
The countries with no mineral resources, the shipbreaking industry is a blessing in disguise. The dismantled ships supply raw materials to steel mills, steel plate re-manufacturing, asbestos re-manufacturing as well as providing furniture, paint, electrical equipment, and lubricants, oil to many local industries. The ship recycling industry leverages the economy of developing countries in the following ways: 
Employment Generation: The dismantling requires a large number of people for cutting, salvaging, and processing various materials. As developing countries have a large pool of available labor at lower costs, the ship recycling industry can create opportunities for local communities and reduce unemployment rates, while also alleviating poverty rates. 
Foreign Exchange Earnings: Shipbreaking attracts a lot of foreign investors and buyers, interested in purchasing recycled material at an affordable price range. The inflow of foreign currency is beneficial to strengthen the country's balance of trade and currency value. The earnings from foreign exchange contribute to a country's foreign reserves and can be used for various economic purposes.
Revenue Generation: The shipbreaking industry generates revenue for any government through taxes, fees, and licenses. This revenue contributes to a country's economy and provides funds for public services, infrastructure development, education, healthcare, and other socio-economic initiatives.
Hidden Economic Benefits of Ship Recycling 
The ship recycling industry significantly impacts the local supply chain and promotes production in ancillary industries. The growth of this industry directly impacts economic growth, creates business opportunities, fosters innovation, and increases the overall development of industries. 
Some other economical benefits of the ship recycling industry are: 
Increased employment opportunities in industries such as logistics, transportation, equipment manufacturing, and scrap metal processing.
By recycling abandoned ships, countries can mitigate their dependence on the extraction of raw resources, conserve energy, and minimize environmental impacts associated with resource processing and extraction. 
The shipbreaking yards are a prime spots tourist attraction. With increased tourism, the revenue from tourism-related activities, such as accommodation, transportation, and hospitality services is also increased. 
The ship recycling industry also supports the local ship-building industry and provides cost-effective raw materials for building new vessels. 
The environmental benefits offered by ship recycling saves the environment and protecting ecosystems, fisheries, and tourism industries, which are often imperative for the economy.
Prime Factors Driving the Economic Impact of Ship Recycling
Establishing a shipbreaking is not the only prerequisite for reaping the enormous economic benefits of ship recycling. There are several factors in play that lead to economic advantages. 
Infrastructure Availability: To set up a shipbreaking yard, you require a vast area along the coastlines. Hence, the shipbreaking business cannot yield huge profits without infrastructure availability. 
Regulatory Frameworks: Without regulatory frameworks, ship recycling cannot take place smoothly. To reap the economic benefits of the ship recycling industry, there is a need for regulatory frameworks to allow the seamless operation of shipbreaking activities. 
Scale of Operation: Shipbreaking is usually carried out at a very large scale, due to circumstantial demands. Therefore, to carry out a shipbreaking operation, yielding a large revenue, the shipbreaking company should be fully prepared. 
Conclusion 
The ship recycling industry promises high returns and is beneficial for the growth of developing economies across the world. The shipbreaking industry generates mass employment opportunities, large revenues, and sustainable resource management, all contributing to the development of economies. R.L. Kalthia is the best shipbreaking company in India and the recycling facility of choice for safe and environmentally sound recycling for a number of major ship owners and their obsolete vessels by providing green ship recycling in line with csr credentials. Browse through our website for more such informative content or reach us at info@kalthiashipbreaking.com.