Occupational Safety of Ship Breaking Workers – The average life of a ship is 20 – 25 years. Without the shipbreaking industry, the significant number of ships dismantled each year would have become a navigational and environmental hazard. However, ship breaking, despite all the benefits, comes with its own set of challenges. An average ship sent for shipbreaking comprises a large amount of carcinogenic and toxic substances such as PCBs, PVCs, PAHs, TBT, mercury, lead, asbestos, and POPs. On dismantling the ship, these toxic substances pose a serious risk to the occupational safety of shipbreaking workers. 
In this blog, compiled by R.L. Kalthia Shipbreaking Company, you can gain more insights into the Occupational Safety of Ship Breaking Workers and how different international conventions are working to tackle these occupational hazards and worker safety concerns.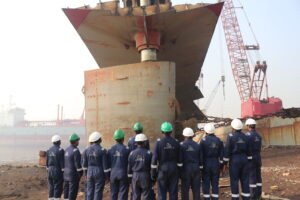 Occupational Health Hazards in Shipbreaking 
Ship Breaking is a difficult process to carry out due to the structural complexity of ships and environmental safety and health hazards. Majorly the ship dismantling of vessels is carried out in the informal sector and is seldom subjected to safety controls or inspections. Several ship dismantling operations expose the workers to a wide range of occupational hazards, workplace injuries or even death. 
The Occupational Safety of Ship Breaking Workers is a further risk due to inadequate worker training and fire-protection measures. The lack of personal protective equipment is another reason that is likely to cause work-related injuries in the workers. Some of the shipbreaking yards lack waste management systems or facilities to prevent pollution, which further damages the surrounding environment, the local communities, fishery, agriculture, flora and fauna.  
Different types of Hazards Encountered During the Shipbreaking:
| | | | | |
| --- | --- | --- | --- | --- |
| Hazardous Substances & Waste | Physical Hazards | Mechanical Hazards  | Biological Hazards | Ergonomic & Psychosocial Hazards |
| Asbestos Fibers, dusts | Noise  | Trucks and Transport Vehicles  | Toxic marine organisms  | Mental stress, Anti-social behaviour |
| Heavy and Toxic metals (lead,  mercury, cadmium, copper, zinc, etc.) | Vibration  | Failure of Machinery and Equipment | Animal bites  | Poverty, low wages, under-age workers, and lack of education. |
| Organometallic substances (tributyltin) | Extreme Temperatures | Poor maintenance of machinery and equipment | Vectors of infectious disease  | Long working hours, shift work, temporary employment |
| Lack of Hazard Communication | Radiation (ultraviolet) | Lack of Safety guards in machines | Risk of communicable disease  | Repetitive strain and awkward postures |
| Batteries, fire-fighting liquids  | Radioactive Materials | Structural failure in the ship | Risk of insects and other animals that may infest the ship | Repetitive and monotonous work, Excessive Workload  |
International Labour Organization (ILO) for Promoting Occupational Safety of Shipbreaking Workers 
The International Labour Organization (ILO) has been established to provide assistance to ensure safe work in shipbreaking and promote occupational safety. The guidelines concerned with the worker's safety were approved by the governing body of the ILO and published the guidelines at its 289th session of March, 2004. However, the practical use of these guidelines is dependent on local circumstances, scale of operations, technical possibilities, and financial resources. 
Technical cooperation is highly important to implement the guidelines for the occupational safety of shipbreaking workers. The guidelines have taken inspiration from the Guidelines on Occupational Safety and Health Management Systems, ILO-OSH 200. All the guidelines are framed in accordance with the following mentioned international organizations and conventions: 
International Maritime Organization (IMO)
Basel Convention on the Control of Transboundary Movements of Hazardous Wastes and their Disposal
Convention on the Prevention of Marine Pollution by Dumping of Wastes and Other Matter (London Convention, 1972, and Protocol, 1996)
International Chamber of Shipping (ICS)
Industry Code of Practice on Ship Recycling
Many developing countries participated in the ILO (International Labour Organization), such as Bangladesh, China, India, Pakistan and Turkey. 
General Provisions of the International Labour Organization (ILO) 
Ship recycling is not a recognized industry in many countries. Therefore, the workers are not protected by any labour laws. Although a wide range of toxic substances found on the ships such as asbestos, polychlorinated biphenyls (PCBs), toxic paint such as tributyltin (TBT), and heavy metals are currently banned, they can still be found on the ships built 20 – 30 years ago. Therefore, the protection and safety of workers handling hazardous substances becomes crucial.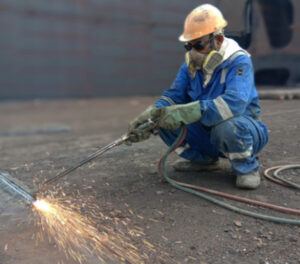 The guidelines set by the International Labour Organization play a major role in the promotion of Occupational Safety of Ship Breaking Workers. The general provisions set by the ILO contribute in the following way in safeguarding the worker's safety: 
Protect the shipbreaking workers from workplace hazards and work-related injuries. 
Improving the management of occupational safety and health issues in or about the workplace. 
Implementation and integration of the occupational safety and health (OSH) management systems aimed at improving the working conditions. 
Establish the duties and responsibilities of the authorities, employers, workers and other bodies involved in the shipbreaking. 
Lay guidelines to frame national policy and principles on occupational safety and health and welfare of persons employed in shipbreaking facilities. 
Conclusion 
With the new advancements in the shipbreaking industry, the focus has been shifted to issues such as Occupational Safety of Ship Breaking Workers, green ship recycling and waste management. With increased awareness and government initiatives, more and more shipbreaking yards are following rules and regulations set by international conventions such as the Hong Kong Convention, Basal Convention and other organizations. All, the shipbreaking industry needs is strict rules and regulations for the implementation of guidelines set by the ILO.