The global shipbreaking industry has turned to countries such as India, Pakistan, Bangladesh, Turkey, Pakistan, and China. Though the shipbreaking industry is a boon to the economy of these countries, their scarce environmental policies pose a threat to marine biotic and human life. R.L. Kalthia aims to elaborate on Hazardous materials analysis and disposal procedures during ship recycling through this blog. You will find a vivid explanation of the toxic materials recovered from the vessels and their disposal procedures. 
The onboard hazardous materials are a threat to humans, animals, and the environment. The perilous materials are present widely in varying amounts and are generally difficult to deal with. Removal and disposal of abandoned ships in an environmentally sound and safe manner is a major challenge today, therefore it is imperative to know, how to remove and dispose of hazardous materials. There are different methods used to deal with different types of hazardous materials. However, there still needs to be advanced measures and techniques to enhance the protection of the environment and human health.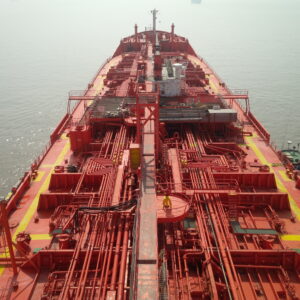 Onboard Hazardous Materials Recovered while Shipbreaking 
Ship recycling has been associated with menacing practices and marine pollution. Even though shipbreaking provides a reliable supply of steel and other metals for reuse, there has been a severe cost in terms of lives lost and local environmental impact. Ships are built with a wide range of metals and polymers for their high durability and other features. However, these materials also threaten the environment due to their radioactive and toxic nature. The list of hazardous materials found in the end-of-life vessels is mentioned below: 
Asbestos
Polychlorinated biphenyls (PCBs)
Ozone-depleting substances (CFCs, HCFC, etc.)
Organotin compounds (TBT, TPT, TBTO)
Glass Wool 
Heavy metal—lead
Heavy metal—mercury
Oil and fuel (including hydraulic and lubricating oils, engine oil, and grease)
Bilge water
Ballast water
Polyvinyl chloride (PVC)
Environmental Impact of On-board Hazardous Materials 
All the detrimental materials are found at different locations in the end-of-life vessel. Each one of them has a specific interaction with the environment, humans, and animals. The impact of other hazardous materials, with their location and impact on the environment, is demonstrated in the table below: 
Material 
Location 
Environmental Impact
Polychlorinated biphenyls(PCBs)
cable insulation, transformers,capacitors, switches, some paints,

pumps, cranes, etc.

Carcinogenic and Bioaccumulatoive.  
Asbestos
Used as lagging, especially in the engine room.
Accumulates in the lungs causing lung cancer,

asbestosis, and mesothelioma

Ozone-depleting

substances

Blowing agent for insulation of LNG

carriers, extinguishing agents,

refrigerant for a refrigerating machine

Environmental Pollution
Organotin compounds
Anti-fouling paint on ship's bottoms
Contaminate sea products, potentially hazardous

effect on human health.

Polyvinyl chloride (PVC)
Plastics,

cable coatings, and floor coverings.

Cancers, asthma, and impairment to

human reproduction systems.

Bilge water
Accumulated stagnant water in bilges.
Contain a range of pollutants: oil, inorganic

salt, heavy metals, etc.

Ballast water
Fresh or salt water is taken on board ballast tanks to adjust the ship's trim and

stability

Contains bacteria and viruses, also

persistent invasive organisms and sediments

Glass Wool 
board, glass wool felt, glass

wool pipe, a shell of glass fiber products.

May remain suspended for a long time,

and accumulate in the lungs causing lung cancer. 

Lead 
Paints, cabling, batteries, motors, and

generators.

Damage to the neurological system, hearing,

vision, reproductive system, blood vessels,

kidneys, and heart. 

Mercury
Light fittings, luminescent lamps,

switches, and thermometers

Toxic, bioaccumulative, and affect the nervous

system. 

Oil and fuel
Bunkers, bilges, fuel systems, and

engine rooms 

Poisonous when inhaled or consumed

by contaminated water or fish. 
Hazardous materials with their location and impact on the environment.
Disposal Procedure of Hazardous Materials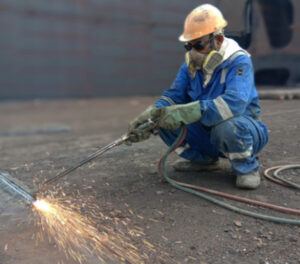 Disposing of hazardous materials is the most critical step in ship recycling. Any mistake during the disposal procedure can be life-threatening for the shipbreaking workers as well as the animal life that will be exposed to it. Therefore, carrying out the disposal procedures with utmost safety is essential, while adhering to international and industrial standards. The disposal procedure for the hazardous material can be briefed with the following mentioned steps:
1. Qualified workers are hired with in-depth knowledge and proper training.
2. Several tools and equipment are utilized for protection such as disposal cloth, groove, mask, special shoes, equipped with respiration devices, etc.
3. There should be facilities for personal protection equipment (PPE), storage room, showering room, changing room, washing room, etc. 
4. Make sure the workers strictly follow the procedures to dismantle a specific hazardous material and set it up in a confined area to prevent an explosion from oils and fuels such as hydraulic and lubricating oils, engine oil, and grease. 
5. A diligent team should be assigned to supervise workers and ensure that they are wearing all the protective gear and equipment and working as per the standard protocols. 
6. Put dismantled hazardous materials in proper packaging and forward them to a qualified treatment organization for disposal.
Conclusion 
The end-of-life vessels contain many hazardous materials such as PCBs, glass fiber, solid foam, and waste oils, damaging the environment, humans, and animals. Currently, the recycling process is not considered in the ship design process, where the main focus is cost and quality. There is a need for stringent ship recycling policies that will reduce the number of hazardous materials, keep track of these harmful materials during design, construction, and operation, increase the accessibility of wiring and piping, and so on. Contact R.L. Kalthia at info@kalthiashipbreaking.com to acquire more information on ship recycling or to avail of shipbreaking facilities.