Studies have stated that 40 percent of the waste worldwide ends up in huge heaps of garbage, and the oceans will see more plastic in them than fish by 2050. Although Shipbreaking is deemed the perfect disposal solution for large, abandoned, and useless ships, rampant shipbreaking activities on the beachside contribute to marine pollution. As the ships are largely constructed of many radioactive and toxic materials, it is a threat to humanity as well as marine life. To stave off marine pollution and make shipbreaking more environment-friendly, the concept of Green Ship Recycling has been introduced. Through green ship recycling the waste management and shipbreaking industry will transform into an environment-friendly activity, thereby alleviating pollution. 
Green Ship Recycling is an attempt to transform ship breaking into an ecologically sound activity. Using this technique, marine pollution can be substantially controlled. Earlier, green ship recycling was first adopted by developed countries to marine pollution and save marine animals. As the shipbreaking industry shifted to developing countries, marine pollution became more rampant. Therefore, developing countries also adopted green ship recycling. Let's dig deeper into green ship recycling and learn more about its working.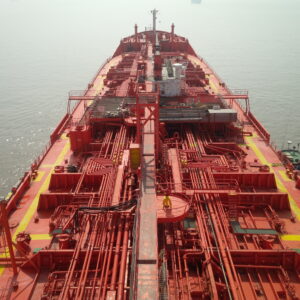 What is Green Ship Recycling? 
As shipbreaking has emerged as a preferable ship disposal method, green ship recycling is more and more encouraged. Unlike, conventional shipbreaking that happens alongside the beach, in green ship recycling the ship is dragged to a dock where it is dismantled. This prevents radioactive and toxic chemicals from flowing into the ocean. Commonly found toxic substances, released during shipbreaking are: 
Asbestos
Oil sludge
Bilgewater, containing oil, urine, detergents, and solvents
Ballast water, containing plants, viruses, and bacteria picked up along the journey
Polychlorinated biphenyls (PCBs)
Lead
Mercury
Anti-fouling paint containing biocides, such as tributyltin (TBT)
Green ship recycling has gained popularity with increased awareness among shipbreaking yards. With gradual adoption by shipbreakers in developing countries, green ship recycling will become the norm and take the shipbreaking industry by storm. Green ship recycling will slowly and steadily become the new reality in the ship disposal system. 
Key Growth Factors of Green Ship Recycling 
The shipbreaking industry is witnessing a paradigm shift with green ship recycling. Stable economies around the globe will boost the green ship recycling market in the future. Some other driving factors, contributing to the growth of green ship recycling are given below: 
1. With technological advancements, green shipbreaking will become more common and feasible across the globe. 
2. The global green ship recycling market is expected to witness tremendous growth between the years 2020 – 2030 as national targets, rapid technological advancements, and international agreements have compelled companies to upgrade their shipping vessels. 
3. Significant investment in the manufacturing sector across the countries and stable economies will create favorable conditions for the green ship recycling market. 
4. With an increased demand for new vessels in different sectors, a lack of supply chain in ship maintenance services, and a rise in the production of vessels will promote the green ship recycling market. 
Major Developments in India 
The release of "Recycling of Ship Bills" in India in 2020, is expected to provide greater power for ship recycling in the country. This new bill will encourage the enforcement of internationally recognized standards and statutory mechanisms to ensure its implementation. 
The government of India decided to join the Hongkong International Convention for environmentally sound and safe recycling of ships in 2009. As per the new Act, ship recycling facilities are required to be authorized and ships can only be recycled in these authorized ship recycling facilities. 
Green Ship Recycling vs Conventional Ship Recycling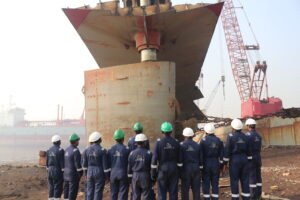 Green ship recycling has evidentiary benefits over the conventional method of ship recycling. Besides, being a sustainable method, it also helps keep a record of material recovered from the shipbreaking. Some other advantages of green ship recycling are: 
1. A sustainable and environmental-friendly shipbreaking or ship disposal method. 
2. Significantly reduces the amount of waste generated and also prevents hazardous shipbreaking from reaching the beaches, which eventually affects marine life. 
3. Earlier, only developed countries followed this ecological ship disposal method but slowly developing countries are also incorporating this method. 
4. With the help of green ship recycling the ship owner can easily identify, store and safely dispose of those parts of the vessels that are hazardous to both human and marine lives.
5. Many toxic and radioactive materials, recovered while shipbreaking such as asbestos, oil sludge, and arsenic can be properly treated. 
Green Passport; Recycling the Safe way
A green passport is a verification acquired from authorities, once a ship owner agrees to follow the standard procedures involved in green ship recycling. The ships with green passports will enjoy the following benefits, besides protecting the environment:
A ship's inventory of Hazardous material (IHM) is maintained throughout the ship's operational life.
Ships are devoid of radioactive and ozone-depleting substances.
Materials from ships are entirely used.
Foster staff awareness of the material.
Conclusion 
Green ship recycling is a panacea for the unsystematic management of shipbreaking material and pollution caused by the hazardous material washed along the beachside. These harmful not only affect marine biotics but also impact human life and workers involved in shipbreaking. Incentives happening at the international level such as Hongkong Convention creates awareness among people for adopting ecological and sustainable shipbreaking practices such as green ship recycling. Developing countries embracing green ship recycling over conventional shipbreaking methods will completely change the shipbreaking industry.