Shipbreaking Industry is constantly evolving, where scientific support and technical approaches are needed more than ever before. There is an emergent need to increase the efficiency and productivity of the ship recycling facilities through optimization of the ship recycling processes. Productivity is dependent on many factors, one of which is various cutting technologies employed to dismantle and recycle ships. Gas-cutting technology for shipbreaking is widely employed for its myriad of benefits. 
R.L. Kalthia has prepared this blog to dig deeper into Gas-cutting technology for ship breaking and other popular cutting technologies. Cutting technologies are crucial in improving the efficiency and precision of the steel-cutting process, which is central to the profit earned through selling recovered material from ship recycling. Use this informative guide to get insights into the working of gas-cutting technology in shipbreaking.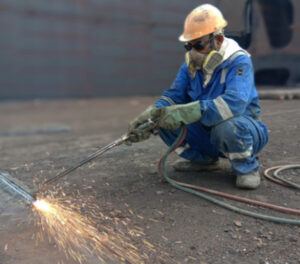 A Glimpse into the Working of Gas-cutting Technology for Shipbreaking 
Gas-cutting technology is divided into two categories; plasma cutting and oxy-fuel cutting. Gas-cutting technologies are imperative in ship recycling as they are used for cutting thick steel plates and structures of the ship. Plasma cutting is another popular gas-cutting technology that involves the use of a plasma torch, which generates a high-velocity jet of ionized gas (plasma) that reach high temperatures of up to 30,000 degrees Celsius. The plasma jet melts the steel and blows away the molten material and creates a clean and precise cut. The entire steel-cutting process can be summarized into the following mentioned steps: 
Equipment Step: The first step in gas-cutting is arranging all the necessary equipment to carry out the process smoothly. The list of equipment includes oxygen and fuel gas cylinders, hoses, regulators, and cutting torches. The oxygen and fuel gas also known as acetylene is supplied via hoses to the cutting torch.
Set Up Work Area: The work area should be fully prepared before starting the cutting process. The officials should ensure the surface is clean, remove any flammable materials, and ensure proper ventilation to disperse fumes and gases generated during cutting.
Light the Torch: Next, Step is igniting the cutting torch using a flint spark lighter or a suitable ignition method. 
Adjust Flame Settings: After igniting the torch, the flame needs to be adjusted to provide optimum heat for cutting. The flame is required to be adjusted to a proper size and shape for efficient cutting. 
Cutting Process: With the right torch setup, the worker brings the cutting flame into contact with the steel structure to be cut. Intense heat and a high-velocity jet of oxygen create a clean and sharp cut in the metal. 
Safety Measures: Safety holds utmost importance while carrying out a dangerous task such as gas-cutting. The process entails equipment such as personal protective equipment (PPE), flame-resistant clothing, gloves, goggles, and face shields. Fire extinguishers and other firefighting equipment are also required. 
A Closer Look at Other Efficient and Sustainable Steel-Cutting Technologies 
There is a myriad of steel-cutting technologies used in ship recycling to dismantle ships. The choice of cutting technology depends on the sheets' size and thickness. However, gas-cutting technology is superior to others due to its efficiency and precision. Some other prominent steel-cutting technologies used in shipbreaking are mentioned below: 
Underwater Cutting: In some cases, the steel cutting is required to be carried out underwater, especially when dismantling ships or removing submerged sections. In this cutting technology, wet welding and wet plasma cutting, are employed. 
Gas Metal Arc Cutting (GMAC): This technology is also known as metal inert gas cutting (MIG), which uses an electrode wire and a shielding gas to create a high-temperature arc for cutting. GMAC is commonly used for cutting thin and medium-sized plates. 
Laser Cutting: Using a high-powered laser beam, this cutting technology is used for precise and automated cutting. This technology is highly efficient in cutting through thinner and more intricate sections of steel. 
Key Features of Gas Cutting Technologies 
Gas-cutting technology is superior to others due to its extensive benefits. It is the most widely used cutting technology and is also safe for the environment. A few highlights of this technology are listed below: 
Portability: Gas-cutting equipment is highly portable, making them an excellent choice for on-site cutting operations during shipbreaking. Portable gas-cutting equipment allows flexibility and more convenience in shipbreaking operations. 
Precision: To get precise and accurate cuts, gas-cutting technology is the right choice. Precision is crucial to maintain the integrity of recovered material and reduces the waste produced during ship recycling. 
Cost-Effectiveness: Gas-cutting technology is more affordable than other cutting technologies such as mechanical cutting or high-pressure water jet cutting. It is a more budget-friendly option for shipbreaking companies during large-scale operations. 
Conclusion 
Gas-cutting is a well-established technique and has been extensively used in many industries for a long time. The technique has undergone extensive development and refinement, ensuring its reliability and effectiveness over other steel-cutting technologies. The shipbreaking companies can benefit from the well-established nature of gas-cutting technology plus the availability of skilled operators, technical support, and safety protocols. You can reach out to R.L. Kalthia for more information regarding shipbreaking at info@kalthiashipbreaking.com.