Along the vast coastline of Gujarat, is situated Alang ship breaking yard. Also, known to be the world's largest shipbreaking yard, it is stretched along a distance of 15 km. Shipbreaking is simply defined as dismantling colossal shipwrecks that can significantly impact marine flora and fauna. A trend that was mainly spread in the American and European subcontinent reached India in 1983. Alang, a small town in Bhavnagar in the state of Gujarat is a literal graveyard of the ships.
Since, its inception in 1983, the yard is believed to have amassed a total of $110.6 billion, including all the assets. Each year a large number of ships arrive at Alang ship breaking yard to be finally broken down into several components that are recycled further into useful products. Choosing a desolate location such as Alang is backed up by several strategic reasons. Alang's beachfront is ideal for ship-breaking activities. Its natural slope and heavy tides make it easier for ships to run on the shore. Let's dive deeper into the Alang shipbreaking yard in Gujarat, India and crack open its working and future trends.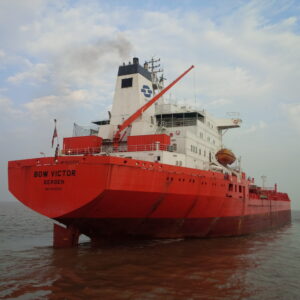 A glimpse into the history of Alang Ship Breaking Yard Gujarat, India
A ship on average has a life span of 25 – 30 years after which it becomes a hazard to the environment. As defined by the U.S. occupational safety and health administration, shipbreaking is any breaking of a vessel's structure for the purpose of scrapping the vessel, including the removal of gear, equipment or any component of a vessel. Shipbreaking utilises this opportunity and salvages abandoned or aged ships which are further processed into ferrous products. Shipbreaking was historically done in European dry dock facilities by skilled workers. As time progressed, developed countries imposed stringent environmental policies and shifted shipbreaking entirely to developing countries such as India, Pakistan, Bangladesh, and Taiwan.
In India, shipbreaking was limited to Darukhana yard, near Mumbai. However, the activity was small-scale and only involved small ships. In the late 1970s, the government decided to import non-useable ships and the need for more ship-breaking yards was realised. Gujarat embraced the movement as there was high demand for steel and scrape. A search mission was started by Gujarat Maritime Board (GMB) to locate an ideal location for a shipbreaking yard. After meticulously analysing different locations, Alang came off as an ideal place with favourable environmental conditions.
By the dawn of the 1980s, Asian yards came into existence. Despite the late establishment, Asia accounted for over 95% of the industry. Alang shipbreaking yard is dominating the industry and holds the first position in Asia as well as in the entire world. India is followed by Bangladesh which holds the second position. Between the periods of 1994 – 2002, a total of 3854 ships were dismantled out of which 58% were disassembled in India alone. This data is represented in the following table:
Country

 

Number of Ships
Total

Of Ldt.

(Million

tons)

% of all

Vessels

% of total

tonnage

India

2245
16,135,949
 58.25
45.09
Bangladesh

529
7,737,562
13.73
21.62
China

379
4,734,533
9.83
13.23
Pakistan

192
3,521,888
4.98
9.84
Turkey

109
379,641
2.83
1.06
Vietnam

29
372,882
0.75
1.04
Spain

18
59,439
0.46
0.17
Mexico

18
75,746
0.46
0.21
Other Countries

345
2,771,663
8.71
7.74
Number of Ships by breaking location and their tonnage, 1994-2002
The table demonstrates that the top six destinations in the list are Asian countries. The date 13th February 1983 marks the day when the first ship known as MV Kota Tenjong, was broken down at Alang ship breaking yard. Since then Alang shipbreaking yard is growing by lead and bounds and has prompted its extension northeast towards Sosiya in Gujarat.
What makes Alang ship breaking yard the largest in the world?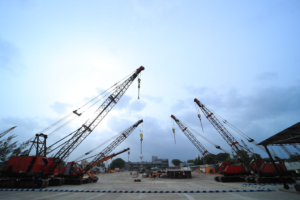 Alang is a small coastal village in the district of Bhavnagar, Gujarat. Before shipbreaking became a success in the state, Alang was dominated by a small population of fishermen and farmers. Currently, it houses the largest shipping yard in the world, stretched along a distance of 15 km, comprising two yards (Alang and Sosiya). The Alang yard bears the capacity to dismantle to break VLCCs1 and ULCCs2 vessels, a facility not available to any other shipbreaking countries in the world. Unlike other developed countries, the shipbreaking industry is labour-intensive instead of capital-intensive. Having surplus labour allows India to meet the workforce requirements at reasonable rates, generating huge profits. There is a myriad of industries that depend on Alang shipbreaking yards. The number of people linked to the Alang shipbreaking yard in Gujarat, India can be estimated between 1.5 lakhs to 1.6 lakhs. The industries and businesses in direct link with Alang yard are downstream industries generated by the shipbreaking industry such as re-rolling mills, foundries, oxygen plants, local scrap stores, transportation companies and other small local businessmen and upstream activities such as brokers, service sectors etc.
As the shipbreaking industry geared towards the developing countries during 80, India took the industry by storm. What differentiates Alang from the rest of the ship-breaking yards is the back-in-the-time approach of the businessmen. The shipbreaking industry generates a lot of employment opportunities and also provides raw materials that can be further recycled into valuable industrial items. Unlike, other yards ships are dismantled at Alang with bare hands and piece by piece. The workers there don't use highly sophisticated machinery to scrape off the shipwreck. The process ushers in when a person, government or any authority sell their ship to one of the Alang ship breakers and they reel in profit from recycling material from the ship. Alang coastline is divided into several plots owned by approximately 180 ship breakers. The existing site of the Alang-Sosiya shipbreaking yard (ASSBY) comprises 183 plots of different sizes. More than half of the plots are of the larger size used to break larger ships whereas the rest of the small plots are used to break medium-sized ships.
Year
No. of Vessels
Light Displacement Tonnages

(Million tonnes)

% of all Vessels
% of total tonnage
1982-83

1983-84

1984-85

1985-86

1986-87

1987-88

1988-89

1989-90

1990-91

1991-92

1992-93

1993-94

1994-95

1995-96

1996-97

1997-98

1998-99

1999-2000

2000-01

2001-02

2002-03

2003-04

2004-05

5

51

42

84

61

38

48

82

86

104

137

175

301

183

348

347

361

296

295

333

300

294

164

24716

259387

228237

516602

395139

244776

253991

451243

577124

563568

942601

1256077

2173249

1252809

2635830

2452019

3037882

2752414

1934825

2727223

2424522

1986121

785304

0.12

1.23

1.02

2.03

1.48

0.91

1.16

1.98

2.08

2.52

3.31

4.23

7.28

4.43

8.42

8.39

8.73

7.16

7.13

8.05

7.26

7.11

3.97

0.08

0.87

0.76

1.73

1.32

0.82

0.85

1.51

1.93

1.89

3.16

4.20

7.27

4.19

8.82

8.21

10.17

9.21

6.48

9.13

8.12

6.65

2.63

Total
4,135
29,875,659
100.00
100.00
Ships Broken at Alang Ship Breaking Yard 
Consistent with Alang's graveyard-like atmosphere, on any given day almost 200 beaches stand at different dissections of yards. Following the high demand for scrape and steel in Gujarat, Gujarat Maritime Board (GMB) carried out an intensive survey of the coastal region and identified Alang as the most suitable site for developing shipbreaking activity due to the following reasons:
Proximity to the high tide zone where tide reaches up to 10 to 11 metres. Most favourable condition for ship breaking activity.
The sloppy coast of Alang and a long dry area facilitated to reach up the shipwrecks.
Alang is located at the Gulf of Khambhat whose harbours are protected areas during the rainy season, allowing shipbreaking facilities.
The sea bed at Alang dries up quickly even during the monsoons, providing an ideal atmosphere to handle shipbreaking material.
Alang is a desolate location far away from competitive activities such as fishing, farming, and merchandise.
How does the shipbreaking work at Alang Yard Gujarat, India?
A ship en route to its final destination arrives at the Alang's shore and lurches forward until it stops. Workers shackle the ship to the ground and use basic chains, and cable machines to further drag the ship onto the ground. The first step is to empty the fuel tank to prevent an explosion. It is mandatory for the crew to show the Gurajat official overseeing the site that the fuel tank is empty before proceeding with the scrapping. A team of scrappers take a walk through the whole ship and identify items that can be resold such as flags and ship's logs to liquor and narcotics. After this, the scrappers take off all the valuable electronics, wiring and plumbing. Alang also hosts a famous scrape market that invites businessmen from all around the world.
Post the initial scrapping rituals, actual destruction begins. The shipboard supervisor examines the shipwreck and inspects the ship to decide the best course of action. There is no established set of ways to dismantle a ship. Through the years of experience of the shipboard supervisor, a course of the plan is decided according to which the dismantling process begins.  After the supervisor's walk-through, the workers begin to disassemble the ship piece by piece using torches, sledgehammers, and sheer elbows. It can take from a week to a year to completely dismantle a ship. Alang has a working force of 40,000 workers living around the shanty towns surrounding the coast. Additional 200,000 people are a part of Alang's business chain. The shipbreaking industry is labour-intensive and does not depend on machinery for getting the work done. Shipbreakers require very little physical assets and sunk capital. The majority of the capital is spent on hiring a workforce and renting the beach.
Upgrade Plans by Government
In the year 2010, the governments of Gujarat and Japan signed a memorandum of understanding. Under this memorandum, Japan offered technical assistance and financial aid in upgrading the yard's operations to meet international standards. This project aimed to make Alang the largest International Maritime Organization-compliant ship recycling yard in the world. The initiative was a part of the Delhi-Mumbai Industrial Corridor an international industrial development project supported by the governments of India and Japan and carried out as a public-private partnership.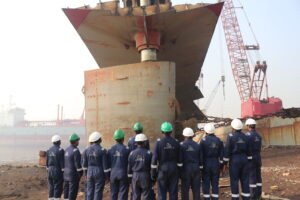 Several improvement schemes were ushered in during the year 2017 when the Japanese International Cooperation Agency provided a loan of $76 million and the Gujarati Maritime Board provided $35 million toward improvements.
Prominent ships salvaged at Alang ship breaking yard
Being the largest ship-breaking yard in the world, Alang has dismantled some prominent ships around the world. Check out the list below to find out some prominent ships salvaged at Alang ship breaking yard, Gujarat:
In the year 2004, the Regal V, popular for a deadly fire in 1990 when it was known as the Scandinavian Star was salvaged at Alang.
On 18 November 2009, the French aircraft carrier Clemenceau was dismantled in Alang.
In December 2009, the longest ship ever built, Seawise Giant, was disassembled at Alang ship breaking yard.
Conclusion 
Alang shipbreaking yard, Gujarat, India dominates the global shipbreaking scenario. It has transformed the shipbreaking landscape in the country with its favourable climatic conditions and proximity to high tides. Alang is immensely contributing to employment generation and provides an optimum disposal solution to huge cargo ships from all around the world. The Alang yard is always under government official supervision to ensure that all standard procedures are followed and no accident takes place. Alang shipbreaking yard will continue to rule the shipbreaking global scenario for many years to come.